Challah bake brings people together
Sarah Dubrow, right, of Bucks County, mixes challah dough with Chaim Meretsky, 5, during the Mega Challah Bake at the Rohr Chabad Jewish Center on Sunday in State College. Dubrow is a Penn State student and member of Alpha Sigma Alpha and attended the event with other members of her sorority. Kelsie Netzer knetzer@centredaily.com
BY JEREMY HARTLEY
jhartley@centredaily.com
The term "challah bread," a traditional Jewish treat, conjures images of braided, oven-browned dough, with or without the poppy seeds.
But the challah is not actually the bread, Rohr Chabad Jewish Student Center Director Rabbi Nosson Meretsky said during the center's Mega Challah Bake on Sunday.
"Everyone always think that challah refers to the braided bread," he said. "Technically, it doesn't mean that.
"The challah is the chunk of dough you remove before you bake," he continued. "You can go to the store and find a box of matzah that says 'challah has been taken.' "
More than 20 people came to the bake, mostly Penn State students seeking to bake the bread for the first time. Individual containers of flour, sugar, water, oil, salt and yeast were set out in fives around several tables, each enough for a pound of dough.
The main thing to making the bread is the blessing, Meretsky said. After consecrating the dough with a prayer, each pound at the table provided a small piece of dough totaling about an ounce.
During the time of the first temple in Jerusalem, he said, the dough removed was given to the priests for their food. Now, that the temple is no more, he said, the section of dough is typically burned.
The gathering itself also held special significance, Meretsky's wife, Sarah Meretsky, said. Every seven years, the land is not touched, giving it a rest for a year. The following year, Jewish people would all gather to hold a mitzvah, or charitable act.
The eighth year, called the year of Hakhel, Sarah Meretsky said, celebrates Jewish unity and learning. It also marks coming together to perform holy acts, such as giving to a charity, baking bread or reading the Torah.
A table of Penn State sorority sisters mentioned that they had started coming to the center last year. While some had experience making the bread — Sarah Meretsky had visited their sorority herself to teach them — others were learning for the first time.
"It's good to be part of the center," said sophomore Courtney Konin, of Philadelphia. "We don't have a big Jewish community at home."
"This is a good way to be part of the community while away from home," said sophomore Randi Ivler, of Manalapan, N.J.
The center was opened in 2001, Meretzky said, and is one of more than 4,000 Chabad centers around the world. Sunday marked the first time a large-scale bread bake was attempted at the center.
Jeremy Hartley: 814-231-4616, @JJHartleyNews
Community members turn out for menorah lighting
Abby Drey
adrey@centredaily.com
Nearly 100 community members, including Mayor Elizabeth Goreham and Rabbis Hirschel Gourarie and Nosson Meretsky, turned out for the 15th annual menorah lighting in the State College area on Wednesday night.
The lighting of the menorah is a symbolic tribute to both the religious and historical significance of the Jewish holiday, Hanukkah.
The event was hosted by Chabad of Penn State on the steps of Old Main, shortly after the sun crested over the horizon, on an already chilly Wednesday evening near the end of Penn State's fall semester.
THIS IS A MESSAGE OF RELIGIOUS FREEDOM.
Rabbi Hirschel Gourarie
"This is a message of religious freedom," Gourarie exclaimed. Gourarie moved to Penn State in August and this was his first menorah lighting at the university. He appeared both visibly excited and happy for the turnout Wednesday evening.
WE ARE BLESSED TO BE IN SUCH A WONDERFUL COMMUNITY IN SUCH AN AMAZING COUNTRY, THAT IS AMERICA.
Rabbi Hirschel Gourarie
"We are blessed to be in such a wonderful community in such an amazing country, that is America," Gourarie said.
Several attendees echoed his message, including Stacy Jarvis, a freshman at Penn State. "I love to see people out celebrating openly," Jarvis said. "It's awesome to see all the different Jewish organizations coming together, too."
Gourarie gave opening remarks prior to introducing Meretsky to the crowd. Gourarie told the crowd the spirit of Hanukkah is about celebrating "the right over the night" and "bringing light to the world."
Meretsky told the crowd he was happy to see them and that this night was about "celebrating miracles," telling the group, "you are all miracles in yourself."
Hanukkah, the Jewish Festival of Lights is an eight-day celebration of the "miraculous victory," and "dedication," of the menorah, Meretsky said.
It is especially a symbol of the "triumph of freedom over oppression, of spirit over matter, of light over darkness," according to "Experience Chanukah," a message based on the teachings of the Lubavitcher Rebbe.
Goreham also spoke at the event, telling attendees that "the Jewish community adds so much to our community." Later, Goreham told the CDT that "embracing diversity is important" and will always be her mission.
"It's great to see the whole community come together," said Rebecca Balcunas, a Penn State junior.
When asked what this night means to hear, Miriam Urqhart, a Penn State junior, said. "It just means pride. It's a source of pride for us to be able to share our traditions with the entire community."
After the fourth candle on the menorah was lit, students and community member broke out in song and dance.
Traditional Jewish food, including latkes and donuts were served.
Hanukah ends on Monday.
Dozens gather to celebrate
Hanukkah at Old Main
State College marks start of Hanukkah
lfalce@centredaily.comDecember 16, 2014
Rabbi Nosson Meretsky speaks before lighting a menorah in front of the State College Municipal Building on Tuesday, Dec. 16, 2014. CHRISTOPHER WEDDLE — CDT photo | Buy Photo
In a season of holidays, one got its first moment to shine Tuesday night in downtown State College.
Dozens gathered in the courtyard in front of the municipal building as Rabbi Nosson Meretsky of Chabad of Penn State lit the first candles in the huge menorah, marking the start of the eight-night festival of Hanukkah.
The holiday commemorates a miracle of the Jewish faith, when a single day's worth of oil lasted eight days as the Holy Temple was reclaimed and rededicated.
Meretsky said 2014 marks the 40th year that public menorahs have been lit in the United States. The practice started in Philadelphia.
"It's a very tangible way of bringing light to the darkness," Meretsky said. Another candle is lit each day, increasing the light flame by flame.
It is an important lesson, especially in the face of darkness like the hostage situation in Australia or the tragic school attack in Pakistan, he said.
After the lighting and a singing of blessings, Chabad welcomed the crowd to enjoy the fun parts of the celebration.
There were hot latkes, the potato pancakes that are a traditional Hanukkah nosh. Holger Thorsen, 14 months, got his chance to try them for the first time.
At another table kids were making their own dreidels out of modeling clay and decorating them with sequins, just the kind of thing Camilla Thorsen, 5, was looking forward to. Well, that and the eight nights of presents.
"It really brings us together as a community," said their mom, Rebecca Thorsen.
The event gave another culture its moment in the spotlight during the nonstop march toward Christmas.
"We love the diversity and richness of our community," said Mayor Elizabeth Goreham.
Lori Falce can be reached at 235-3910. Follow her on Twitter @LoriFalce.
Rabbi Nosson Meretsky lights one of the candles on a menorah in front of the State College Municipal Building on Tuesday, Dec. 16, 2014. CHRISTOPHER WEDDLE — CDT photo | Buy Photo
Local Jewish community prepares for high holidays
lfalce@centredaily.comSeptember 22, 2014
Say the words "high holidays" and your average Christian or nondenominational secularist might think Christmas or Easter.
Say them to a Jew and they have a very specific meaning.
More people may know about Hanukkah because of its proximity to Christmas. Many know of Passover because it falls close to Easter. But few realize the importance of two Jewish holidays and the days that fall between.
"The high holidays are the holiest days of the year," said Rabbi Nosson Meretsky, of Penn State Chabad.
But what are they, exactly?
They begin with Rosh Hashana, starting Wednesday. Those who know something about it might identify it as the Jewish new year, but it is more than that.
"It's the anniversary of the sixth day of creation, the first human creation," Meretsky said. "We are asking God to be king of the world. It's a kind of coronation."
Like any holiday, it has its symbols, like sweet apples and honey for the promise of a sweet life in the coming year, and the challah bread, traditionally a long, braided loaf, is baked in a round to represent the cycle of life.
"It is joyous. We are certain we are going to have a good year," Meretsky said. "But it is also serious. Both are very important."
Just as important is the second holiday that bookends the week and a half of celebration and observation. Some might pick out Yom Kippur as the faith's day of atonement, but might not know why.
"It commemorates the day the Jewish people were forgiven for worshipping the golden calf," Meretsky said.
The day is remembered with fasting, he said, not for suffering but out of reverence.
Chabad will observe the holidays in style with services at the Days Inn Penn State on Pugh Street and meals at Chabad House on Waring Avenue. Meretsky said all are welcome, but did ask that reservations be made for the meal by visiting www.psujew.com/roshhashanah.
Friends, family, food and faith: Dozens celebrate Passover at Jewish Student Center
mmorgan@centredaily.comApril 15, 2014
STATE COLLEGE — Growing up, Jen Loev would observe Passover with a small group of friends and family.
Now that number is a little bit higher.
The Penn State senior was one of more than 100 people that crammed into Rabbi Nosson Meretsky's house at the Rohr Chabad Jewish Student Center, 443 E. Waring Ave. to observe the holiday. The evening was one of food, prayer and bonding between people.
The group started the observance by eating a small amount of food and lighting candles before sundown to begin the commemoration before starting the prayer.
Having a place to go for the holiday brings Loev back to times in her past when she would commemorate the day with her family. She said it's harder to maintain the Jewish lifestyle in college when she is unable to go home to be with her family, but she already tries to go to events for the major holidays.
"Being Jewish is a part of who I am," she said.
Loev said it's always fun to interact and talk with the other Jewish students about what traditions their families would hold and ways they would do things.
And that feeling of a place for students to go is why Meretsky continues to open his home to the students. Especially during the week, he understands that students will likely not be able to return home to commemorate the day.
"Our main theme year-round is we try to (give them) a home away from home while they're here," he said.
Each Passover, Jewish people commemorate their liberation from Egyptian slavery more than 3,300 years ago. According to the book of Exodus, the Jewish people were freed by God through 10 plagues. In the last plague, as God killed the first-born child, Jewish people put lamb's blood on their doorways so their homes would be passed over.
Meretsky's wife, Sarah, said she must do about three weeks of working full days to prepare for the holiday, but when the students and members of the community arrive, all the work is worth it.
The couple moved to the area in fall 2001, started to hold the holiday observance the next year and it has become a tradition ever since. Meretsky said he is committed to continuing it each year to make sure the students have a place to go.
Matt Morgan can be reached at 235-3928. Follow him on Twitter @MetroMattMorgan.
Students gather to celebrate Hanukkah outside Old Main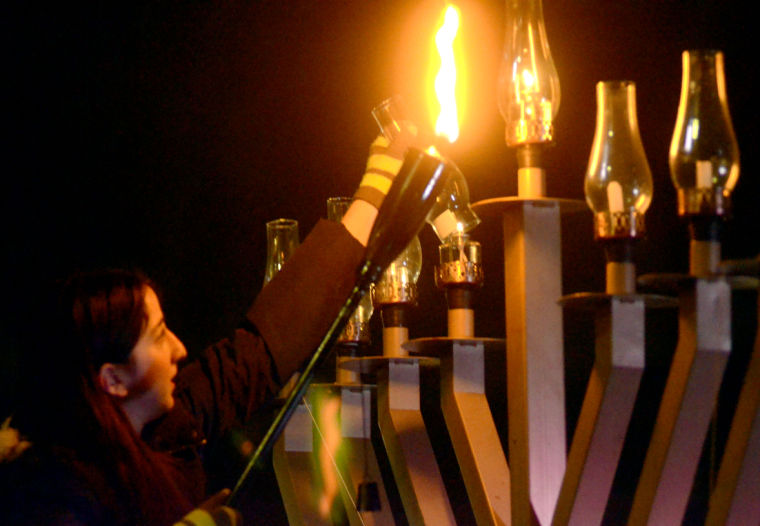 Posted: Tuesday, December 3, 2013 12:00 am
By Megan Caldwell | Collegian Staff Writer
Members of the Jewish community of Penn State, State College and Centre County gathered last night to celebrate the sixth night of Hanukkah.
They danced and clapped their hands to traditional music provided by the Pittsburgh Simcha Orchestra and ate latkes and sipped hot chocolate while celebrating the holiday together.
Mayor Elizabeth Goreham gave opening remarks before the menorah lighting ceremony began.
Goreham said that she believes the ceremony is a great example of faith in the community and in the lives of the citizens.
Last month the fraternity Beta Sigma Beta experienced vandalism at its fraternity house, in light of the event Rabbi Meretsky said he believes that the ceremony is a great opportunity for the Jewish community to "bring light into darkness" as is the tradition of Hanukkah.
"The best response to antisemitism is to be seen rather than hide," Meretsky said. "By gathering we are bringing the light in to the darkness."
Meretsky shared with the crowd that you can bring light to the darkness by simply helping a neighbor in need, saying something nice to someone, and that will each light, in the end the world will be a brighter place.
Jordan Walden, President of Beta Sigma Beta lit the first candle of the nine-foot menorah followed by other campus leaders.
Thirteen years ago, when the ceremony first began the menorah was lit on the lawn of the Beta Sigma Beta fraternity house and seemed only fit to have Walden light the first candle given recent events, Meretsky said.
Students of Jewish background and non-Jewish background attended the ceremony and found it as a great way to bring students together.
"The ceremony was a really cool way to celebrate and meet other Jewish people as well as bring various Jewish groups together," Carly Greer (freshman-speech pathology) said.
Kim Blabolil (freshman-DUS) agreed with Greer and said being non-Jewish it was nice to see students unite and celebrate something they all had in common.
Megan Caldwell can be reached at mgc5144@psu.edu or (814) 865-1828. Follow her on Twitter at @ca_megan
State College community gathers together to light Menorah
By Jamie Lee Miros
Collegian Staff Writer
A crowd of community members and students gathered together Sunday night to celebrate the 12th annual menorah lighting ceremony and the second night of Hanukkah.
Rabbi Nosson Meretsky, director of Chabad of Penn State, said that Hanukkah is one of his favorite times of the year and is a great celebration for the community.
He said the municipal building is a wonderful place to have it, with the menorah outside and the reception, complete with a potluck of latkes, hot chocolate, donuts and music, inside the lobby.
Before he lit the menorah, Rabbi Meretsky spoke about the message of the second night of Hanukkah and the two miracles of the armies and the oil burning for eight days instead of one.
He said that this celebration brings together students and a lot of people from all over the county.
"It's nice to see new faces and familiar ones every year during this special time," he said.
Mayor Elizabeth Goreham said that it is good to see the students and community members come together, where friends come to support to make for a nice evening.
She said it is a privilege to use the municipal buildings for any religious occasions.
"It's a pleasure to see the growing proof of cultural diversity and richness in the community, and State College is proud to have this," she said.
Penn State students Brittany Moliver and Jacob Reiss were some of the Penn State students who came to the lighting to celebrate Hanukkah here in State College.
Moliver (freshman-premedicine) said Penn State didn't offer many events for Hanukkah, but the lighting was a nice place to come out to celebrate.
"It reminded me of home," Reiss (freshman-premedicine) said.
Community celebrates Hanukkah by lighting night with menorah
Published: December 9, 2012
Rabbi Nosson Meretsky leads a Hanukkah celebration at the State College municipal building.
Abby Drey — CDT photoBuy Photo
By Matt Carroll — mcarroll@centredaily.com
STATE COLLEGE — Spenser and Sawyer McLaughlin mastered the dreidel Sunday evening, watching tops spin longer and longer before wobbling and falling.
"We learned if you blow very carefully, you can move them," said Spenser, 9.
"Then we make them battle," interrupted his 6-year-old brother.
The young boys and their parents were among the few dozen locals and college students who gathered Sunday at the State College municipal building to kick off Hanukkah, which officially started Saturday.
Outside, a 9-foot menorah helped mark the occasion. Rabbi Nosson Meretsky managed to light the first two candles after battling the wind and rain.
"A little bit of light dispels a lot of darkness," Meretsky said during the public menorah lighting ceremony. "Even in situations that are dark, lightness is just around the corner."
Hot chocolate, latkas, music, dancing and games were waiting back inside the municipal building to warm the crowd. It's the 12th year for the community-wide Hanukkah celebration.
"It's a pleasure to see this group come together every year," said State College mayor Elizabeth Goreham. "You are proof of the growing cultural diversity and richness of our community, and we are delighted to see you."
The event, organized by Chabad of Penn State, featured a raffle for a sliver-plated menorah, chocolate Hanukkah coins, plastic dreidels and the distribution of dozens of free menorahs.
"We want students or families who don't have a menorah to be able to have one," said Meretsky, Chabad director.
That's important for the organization, which aims to be a home away from home for Jewish college students by providing programs to help create a strong and vibrant community, according to its website.
Meretsky said the 9-foot menorah will be on the move Sunday night to the Allen Street Gates, where more college students are likely to see it.
"Every night we have different Hanukkah parties lined up at fraternities and sororities," Meretsky said. "We're going to be getting to the rest of the students hopefully as well."
Matt Carroll can be reached at 231-4631. Follow him on Twitter @Carrollreporter.
Q&A | Rabbi Nosson Meretsky
Published: December 1, 2012
Christopher Weddle — CDT photo Buy Photo
Bottom of Form
One Hanukkah celebration is a big deal to Rabbi Nosson Meretsky — as in 9 feet tall.
That's the size of the menorah Meretsky, 39, and his wife, Sarah Meretsky, will set up at 5 p.m. Dec. 9 in front of the State College Municipal Building. As co-directors of the Rohr Chabad Jewish Student and Community Center, serving Penn State and State College, the Meretskys stage their Hanukkah display as part of the international Chabad house network's mission of conducting outreach programs for Jewish communities and promoting Jewish culture.
Chabad houses, established by the Chabad movement started 250 years ago, are centers for teaching about Judaism and Jewish life in casual and informal environments. Chabad student centers are near 165 college campuses.
The Meretskys, also busy raising seven children, serve weekly Friday night Shabbat dinners and organize birthright trips to Israel, among other activities throughout the year. But each December, a giant menorah takes priority.
How did you get started with the menorah?
We've done that since our first time (in State College). It was our first Hanukkah here. We've been here 11 years. This will be our 12th annual menorah lighting.
Our first winter here in State College, the borough building wasn't built yet. So our first year, actually, we had it in the yard of Beta Sigma Beta fraternity at the corner of Fairmount and Locust. We had our 9-foot menorah there. ... I lit the menorah the first night, the president of the fraternity lit it the second night and we had it there all the time. During Hanukkah, it did get pushed over by somebody, but we put it back up. ... The public menorah lighting is something that Chabad-Lubavitch (movement, a branch of Hasidism), worldwide, has been doing for years. For us, it was, of course, Hanukkah time, you have to do a public menorah lighting. That's one of the main things modern (Judaism) emphasizes for Hanukkah, is publicizing the miracle. The whole concept of Hanukkah is that the candles should be on the outside. Even in Jewish law, ideally, the menorah is lit outside the doorway of the house, even the gate of the courtyard. Here, it's not so much, but in Israel, probably more than half the people do it. ... Most (Jewish) people in America are from Europe, and so in Europe, they wouldn't do that because of the weather, because of anti-Semitism. So it was more on the inside.
But in Israel today, they still do it on the outside. Even in America, even though the classic lighting doesn't take place in the gates or the doorway to the outside, even lighting it in a window, which many people do these days, is also publicizing the miracle to the outside.
Where did you get your menorah?
We're now on our second one. Our first one we got from a place in New Jersey. The second one we got from, it's called menorah.net. ... You can order them: 6-foot ones, 9-foot ones, 12-foot ones. The giant menorah in front of the White House and the one in Manhattan, I think, are the maximum size, which I think is 20 feet, 30 feet. There's a certain maximum height that even a public menorah like that is allowed to be. ... The one in D.C., they come out there with a cherry-picker crane to light the menorah there. The same thing with the one in Manhattan, to get up to such a high menorah. Here we use a ladder or a chair for a 9-foot one. For us, it was an automatic thing, to have such a menorah at such an event, to publicize the miracle, publicize the lights and the whole concept, the message of Hanukkah: bringing light to the darkness.
It's also a very nice community event. In the middle of winter, people come out to see such a thing: a giant menorah. People can identify with it too, especially Jewish people. You see this in the middle of central Pennsylvania and you say, 'Wow, look at this, this is my holiday,' because you see so much of other holiday decorations around. ... You can come out and celebrate with dreidels (small tops), chocolate Hanukkah coins; eat latkes and jelly doughnuts.
What does that public display mean to you as a rabbi?
For me it's, I think, one of the reasons we're here, to have these kind of public things, to be visual, to be out there. Hanukkah is one of the best ways to achieve that general purpose.
Have you seen Hanukkah establish more of presence in relation to Christmas?
I think there's a little bit more awareness in general of Hanukkah in the country compared to 50 years ago. .... The fact you see in the press, in the papers, the president of the United States at a Hanukkah party at the White House, lighting a menorah there, it's awareness. People say, 'Oh fine, the president of the United States is going to a Hannukah party. Someone is lighting the menorah there.' Or you see a picture of several rabbis presenting the president with a silver menorah. Or different governors or dignitaries. You have public menorah lightings like the one in California, the governor coming to the menorah lighting, dancing around with Chabad rabbis there. Of course, the giant menorah in Manhattan, the giant menorah in D.C. These things represent awareness. ... The fact is, there are a lot less Jews in America, in the makeup of the population of the country. I don't know if there should be a necessity of having to have everything be equal. You go to Israel, it's mostly Jewish. You don't see many trees for sale.
How did you come to be a rabbi?
Neither Sarah nor I were brought up observant. I grew up in Oregon; she grew up in Omaha, Neb. If she was affiliated with anything, it was more a reformed congregation there in Omaha. I grew up not really affiliated with anything. Until the age of 11, I grew up on a retreat and conference center out in the forest. We had a 165-acre retreat about 40 miles west of Portland. We were the caretakers of the property. My dad was the manager of the thing; my mom was the main chef for retreats and conferences on the weekends.
Basically, unlike most of the Jewish students at Penn State, I knew a lot less about being Jewish when I was 8 years old than they did when they were 8 years old. Maybe I've learned a little bit since then. Basically when I was 8 years old, I knew about Hanukkah and Passover, and that was it. I had never heard of Shabbat (Sabbath). I had never heard of Rosh Hashanah and Yom Kippur, keeping kosher. (The retreat) was just out there in the middle of nowhere. My mom was brought up a little bit going to Hebrew school in Boston.
When I was 11, we moved into Portland and I started finding out more about the concept of Shabbat, Friday night meals, Rosh Hashanah, Yom Kippur, starting to get more involved, get more interested. It was a gradual thing.
When I went away to college in Seattle, I was still getting more involved. I was lighting my own Shabbat candles. A friend of my mom had given me candlesticks. There wasn't anybody else; I was kind of on my own, making Shabbat meals, singing some songs, doing what I knew. ... I started going to the Chabad house there. I was going to Hillel also.
I ended up going to a (Jewish studies) program in the Catskills. ... It was kind of five-week introductory program: field trips, lectures, workshops, classes, all kinds of things. Hands on, five weeks, very basic for people who didn't know much (about Judaism) ... I mean I never even went to Hebrew school. I had a tutor for my Bar Mitzvah. So I went to that, and I enjoyed it so much that I wanted to continue Torah learning, so I ended up going to Brooklyn (N.Y.) and a school. It was a place called Hadar Hatorah. It was the first place in the world, in recent times, that was started for people who did not grow up observant and learning Torah when they were younger. It's a baal teshuva yeshiva (for Jews turning to Orthodox Judaism). ... So I went there for two and a half years. I studied in Israel for half a year, and then came back to New York to continue my rabbinical studies. It was kind of like: After I had been learning Torah for a number of years, I just wanted to keep having an opportunity to be in that environment, to be in with the Torah and Jewish things, since I did enjoy it so much. If I can, if I have the opportunity, why not? If it doesn't work out, fine, I have a back-up plan. I'll find other jobs.
So I did go toward ordination. Then I met Sarah. We got married, and I continued learning for a year, and it worked out.

Article by Chris Rosenblum of the CDT
Festival lively among small audience
Despite a rain shower early in the event, Fifth Annual Jewish Life Festival brought families, Penn State students and more together for food and entertainment Thursday night.
Hosted by Chabad , the event was scheduled to begin at 4 p.m., and the Twins from France acting troupe came to the stage two and a half-hours later.
One twin began the performance by saying to the sparse audience: "Are you here? I don't hear you! I don't see you!"
Together the Twins mixed acrobatics, juggling, unicycling and audience participation to entertain the crowd.
Using members of the audience and themselves as a springboard to their act, the Twins did a dance routine together, flipped and jumped over each other and juggled together, among many other acts.
The twins did not stop there. One rode a unicycle with a child audience member while the other helped to keep the two balanced. This was after a few audience members rode the unicycle while the twins supported them. These performances were met with laughter as well as prompted cheering and clapping by the audience.
Music artist DeScibe followed the comical pair with a unique sound that drew passersby into the audience.
Earlier during the artist's soundcheck, student Isaac Moyer was drawn to listen to the Caribbean and pop influenced singer.
"I was walking from Rec Hall and I heard a guitar cry all over the campus here," Moyer (junior-kinesiology) said.
As soon as he heard the guitar, Moyer moved toward the HUB Lawn to hear the band.
As he performed for the crowd around 7:30 p.m., DeScribe sang with meaningful lyrics that described his life's path.
"If you're singing this song you knew all along that the world can be hard and we all must be strong" were among the song's lyrics.
Outside of the performances, tables were set up with kosher hot dogs for participants, a scribe that would write participants names in Hebrew and more.
Chabad President Fabiana Goldszal said she hopes participants take away "the happy spirit of Judaism ."
Chabad Director Rabbi Nosson Meretsky echoed Goldszal's sentiment.
"They should see that Jewish Life is a Festival, that there are all kinds of exciting things to experience in Jewish culture and Jewish Life," Meretsky wrote in an email. "We try to presert all different aspects; food, music, performance, holidays, daily life and more!"
Penn State Jewish Students Celebrate Unity Amid Scandal
November 17, 2011
Penn State Chabad Rabbi Nosson Meretsky sent an email out to Jewish students last Friday.
"This has been a very crazy week here at Penn State, there are lots of emotions, there are lots of tears, questions, shock. People are wondering, what now? Where do we go from here? Happy Valley has been turned upside down."
With Penn State in the throes of a scandal that erupted last week over allegations of child molestation by the school's former assistant coach, and the failure of two Penn State officials to act on the allegations, students "need time to process," and Shabbat, Meretsky wrote in his email, is as good a time as any to begin.
A much needed reprieve came again Sunday, November 13th, as the school's Jewish student body celebrated the 10-year anniversary of Chabad of Penn State.
Alumni, students, parents and friends turned out to celebrate with Rabbi Nosson and Sarah at Chabad of the Plaza District in New York City, where most of the guests live.
Marvin and Sandra Kohll of Omaha, NE were honored with the Heart of Excellence award for their support of the Meretskys' efforts.
Thomas and Heather Baumgarten of State College, PA were honored with the Community Pillar award. Part of the local community, they've been partnering with the Meretskys to increase and enhance Jewish life at Penn State and the State College community since their humble beginnings.
Nicole (Nikki) Hetchcop who together with the Meretskys began the Jewish Heritage group on campus creating huge Jewish-themed parties at fraternities. was awarded with the young leadership award.
Seven student leaders were honored at the dinner: Chabad Jewish student organization presidents, Maura Klonder and Bree Feibishkoff, past president, Jackie Kelly, board members Jason Cohen and Josh Frisch, as well as the new Jewish Heritage group chairs, Danielle Assour and Melisa Reizner.
In her remarks, Heather Baumgarten reflected sadly at the recent fall of some of Penn State's pillars, but took comfort in the strength of the Meretskys as pillars who continue to enrich the experience of Jewish students with Torah study and Jewish values.
In a conversation with lubavitch.com, Rabbi Meretsky said, "I have lived here now for 10 years. Spanier and Jopa have been a part of my life since I came here. In my experience with them, they always seemed deeply concerned for the well-being of this great University and of every student here."
Mertesky said that he along with the students are struggling "to come to terms with the un-thinkable of what Sandusky is accused of and how it ripped through our University and our town so quickly and so fiercely."
If there is a silver lining here, say the Meretskys, it has made students appreciate the opportunities for unity and for the healing, spiritual space of Shabbat, when they disconnect from the endless barrage of media reports, and are free to focus on the joy of sharing friendship and Torah at Penn State's Chabad Shabbat table.
Photos by Frank Wu